Day 8: the experimental post type 'wrote'
Yesterday I admitted on IRC that I have quit the #100dagen500woorden part of my challenge. I already stated some doubts but Tantek added me to the wiki anyway.
I felt bad for giving up (so early!) but I felt even worse about posting strange unfinished texts on my site. That's why I quit: the challenge didn't feel good.
Today I thought about it some more. I needed a new post-type, where I only post how many words I wrote in a day, not the actual words I wrote.
Compare it with NaNoWriMo, where thousands of people write a novel of 50,000 words in the month of November. The actual text you write in that month does not really matter. The only thing that matters is writing a certain amount of words.
I never participated in NaNoWriMo, so I have no data to export in this format, but I can actually participate this year without having to put my data into NaNoWriMo.org.
---
Now for the implementation details. I have the following .txt-file on my development server: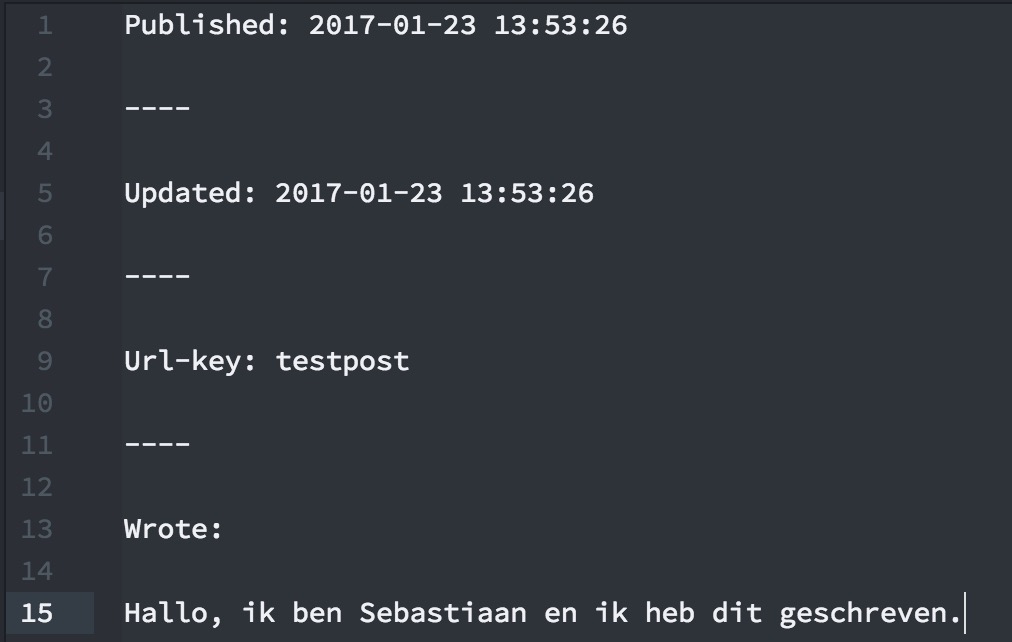 This translates to the following public post on my blog:

As you can see, Seblog calculates the amount of words for me, so the only thing I have to do, is write a text and put it under the wrote field. I mark up the number of words with a p-words class, which is probably not consumed by anyone, but hey, I publish this kind of data now.
Now I have no excuse anymore to pick up some writing again.
---
Last but not least I want to coin the term 'iceberg post'. A 'wrote' in the way I implemented it is an example of an iceberg post: there is a public part and a non-public part to it. It's just a case of Partial Page Privacy, but I think the term 'iceberg post' has a nice ring to it.