Day 32: new repost policy
One of the things I keep changing my mind about, is reposts. They are totally normal on Twitter, but seem to be totally weird on your own site. When signing up for Twitter, you give permission to Twitter to let other people retweet your tweets. When signing up for IndieWeb, yeah, non of that exists.
Still, I reposted a post by Loran Kloeze two weeks ago. It was marked up with h-entry, so all I had to do was just feed my Micropub endpoint the URL, and my site automatically fetched the post for me. At that time, I thought it was good to do so, because the post was important and chances were Lorans server would not have handled it if it went viral. I mirrored it, so others would be able to mirror it. Sounds good, right?
I still did not ask permission for the repost to Loran. (And I doubt he knows about it... maybe he gets a Google Alert after a while? He does not support webmention.) Yet the whole post was available at my site. What about those copyrights? He has removed his Google Ads now, but at that time they where there, and I was potentially keeping visitors away by giving them an ad-free environment to read the post.
So, today I changed some things about how I repost. I only show the first 50 words in the stream, like this: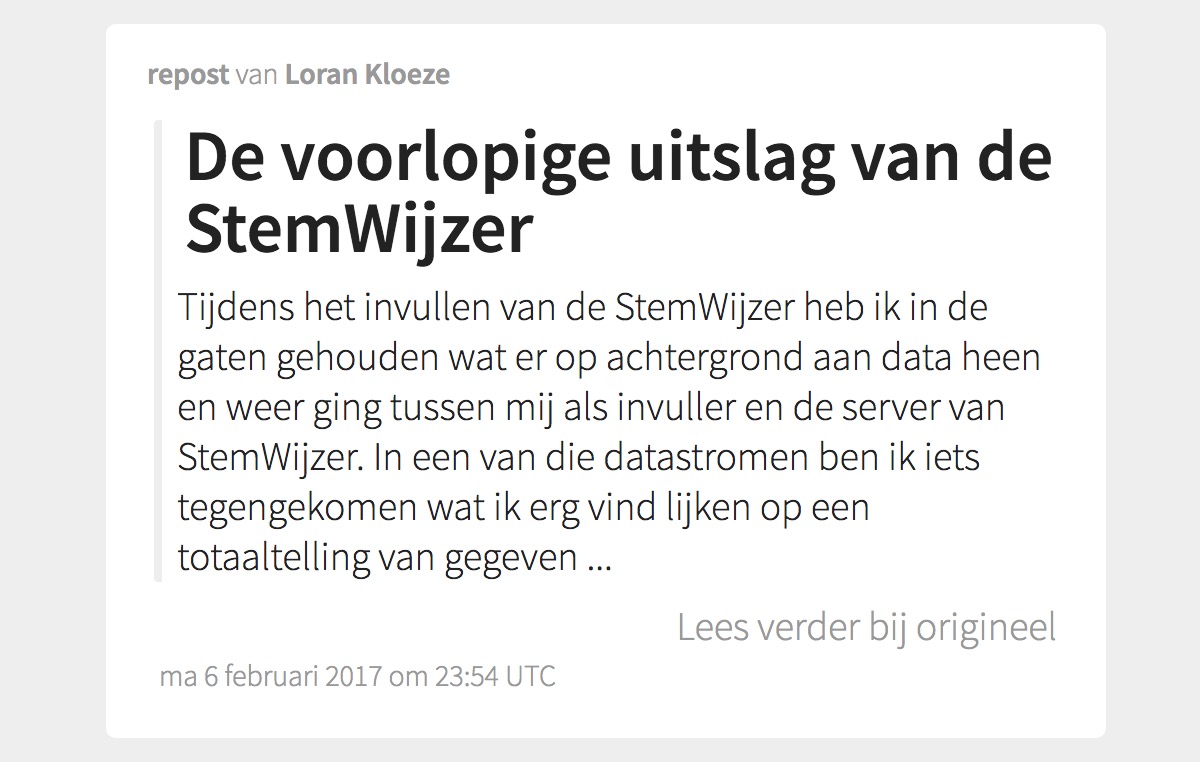 There is a link to read more at the original URL. Tweets are, with 140 chars, mostly kept as is. I am just quoting, but the whole post is so short that I display all of it. The longer posts are cut off, to encourage people to read it at the source. If the permalink expires at some point, I can always decide to show the whole post again. Or maybe I should delete the repost then? That depends on the post.
When visiting a permalink of a repost on my site, you will get redirected to the original post. This way, reposts only appear on my stream, and I don't host their content under a URL on my site.